Fordham University: Ancient History Sourcebook - Rome
Scroll down to 'The Principate to 192 CD' for information on Augustus.
Lacus Curtius
By Bill Thayer, of the University of Chicago
Strabo was

a Greek geographer and historian who saw the final collapse of the Roman Republic and the creation by Augustus of the Roman Empire. His description of Rome is more realistic in considering its disadvantages than most other ancient writers.
Prima Porta Augustus
The victorius Augustus (or Augusto de Prima Porta) statue demonstrates one of the ways that the ancients used art for propaganda purposes. Here, Augustus shows himself as a great military victor and a staunch supporter of Roman religion and mythology through the link with Cupid at his feet. He is a magnificent figure, youthfully athletic (even though he was middle-aged at the time), stands in a relaxed pose where one leg bears the weight, wears military regalia and his right arm is outstretched, demonstrating that the emperor is addressing his troops. We immediately sense the emperor's power as the leader of the army and a military conqueror.
See more at Khan Academy.
The Ara Pacis Augustae ('Altar of the Augustan Peace')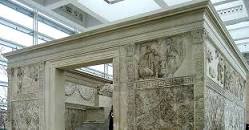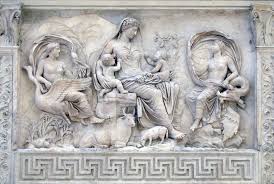 This is an altar in Rome dedicated to Pax, the Roman goddess of Peace, but promoting Augustus' Pax Romana. The monument was commissioned by the Roman Senate on July 4, 13 BC to honour the return of Augustus to Rome after three years in Hispania and Gaul and consecrated on January 30, 9 BC. At its simplest, it is an open-air altar for blood sacrifice associated with the Roman state religion.
See more at Khan Academy and MIT.