Skip to Main Content
It looks like you're using Internet Explorer 11 or older. This website works best with modern browsers such as the latest versions of Chrome, Firefox, Safari, and Edge. If you continue with this browser, you may see unexpected results.
Primary Sources
Reed Uni: Augustus - Nature of the Sources
An excellent analysis of the primary sources available for Augustus.
A large collection of primary sources below!
Primary Sources on Augustus

From 'Readings in the History of the Ancient World', by William C. McDermott and Wallace E. Caldwell, 1951, published by Holt, Rinehart & Winston, New York. Scanned under licence.
The Annals of Tacitus
Roman historian and senator Tacitus

wrote a history of the Roman Empire , from the reign of Tiberius to that of Nero, in the years AD 14–68. He was therefore able to sum up the conflicting opinions on the character of Augustus' rule by repeating unconfirmed rumour and giving greater prominence to negative rather than favourable comments.
NOTE: Use your 'Ctrl F' button to search for mentions of Augustus.
Suetonius: Lives of the Caesars - Augustus
Suetonius interpreted Augustus' actions and intentions more favourably by the items he chose for his biography and occasionally specific comment.
Nicolaus of Damascus: Augustus
Served as a minister of both Cleopatra and Herod the Great, and wrote a lost biography of Augustus. Fragments of it survive.
More Primary Sources
The Deeds of the Divine Augustus (Res Gestae Divi Augusti) - By Augustus
A monumental inscription composed by Augustus himself, giving his interpretation of his life and accomplishments. It is especially significant because it gives an insight into the image Augustus portrayed to the Roman people. H

e reviewed his rise to power, his conquest of the world and his unparalleled generosity towards his subjects, so it is seen by many as propaganda.

Fordham University: Ancient History Sourcebook - Rome
Scroll down to 'The Principate to 192 CD' for information on Augustus.
Lacus Curtius
By Bill Thayer, of the University of Chicago
Cassius Dio on Augustus
Book 52 References to Augustus (Scroll down to no. 23, then 27-29). Here Cassius Dio makes the settlement of imperial powers upon Augustus dramatic by devoting Book 52 to an imaginary debate in the presence of Augustus between Agrippa as a proponent of republicanism and Maecenas as a proponent of monarchy. Augustus follows Maecenas' advice.
The writer, Adam Kemezis states that Cassius Dio leaves his readers in no doubt that by the time of Augustus, a monarchy was the only appropriate form of government for the Roman empire, and that its establishment marked the return of stability after decades of civil discord.
Attalus
This festival of 17 B.C. was part of Augustus' revival of republican religious institutions.
Lacus Curtius
By Bill Thayer, of the University of Chicago
Strabo was

a Greek geographer and historian who saw the final collapse of the Roman Republic and the creation by Augustus of the Roman Empire. His description of Rome is more realistic in considering its disadvantages than most other ancient writers.
Prima Porta Augustus
The victorius Augustus (or Augusto de Prima Porta) statue demonstrates one of the ways that the ancients used art for propaganda purposes. Here, Augustus shows himself as a great military victor and a staunch supporter of Roman religion and mythology through the link with Cupid at his feet. He is a magnificent figure, youthfully athletic (even though he was middle-aged at the time), stands in a relaxed pose where one leg bears the weight, wears military regalia and his right arm is outstretched, demonstrating that the emperor is addressing his troops. We immediately sense the emperor's power as the leader of the army and a military conqueror.
See more at Khan Academy.
The Ara Pacis Augustae ('Altar of the Augustan Peace')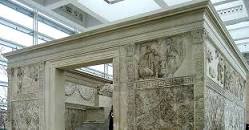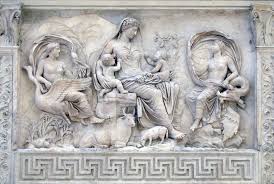 This is an altar in Rome dedicated to Pax, the Roman goddess of Peace, but promoting Augustus' Pax Romana. The monument was commissioned by the Roman Senate on July 4, 13 BC to honour the return of Augustus to Rome after three years in Hispania and Gaul and consecrated on January 30, 9 BC. At its simplest, it is an open-air altar for blood sacrifice associated with the Roman state religion.
See more at Khan Academy and MIT.
Scanned / Printed Chapters of Recommended Reading
Chapter from print book 'The Ancient World Transformed: Societies, Personalities and Historical Periods From Egypt, Greece and Rome', by Pamela Bradley, Cambridge University Press, Melbourne, 2014. Scanned under licence.
Chapter from print book 'The History of Rome' by Michael Grant, Orion Publishing, London, 1996. Scanned under licence.
Chapter from print book 'Understanding Ancient World's, by Miriam G. Estensen, Science Press, Melbourne, 1995. Scanned under licence.
Chapter from print book 'Ancient Rome', by Jeremy Daly, Michael Cocks, Diana Millar and Denis Mootz. Published by the History Teachers Association of Victoria, Collingwood, Vic., 2017, pp. 228-230. Scanned under licence.
An ebook chapter from 'Ancient Rome : an illustrated history', by Marshall Cavendish publishers, New York, 2011. Printed from a commercial ebook under licence.
An ebook chapter from 'Encyclopedia of Ancient Rome', by Matthew Bunson, 3rd edition, Facts on File Infobase ebook, New York, 2012. Printed from a commercial ebook under licence.