Skip to main content
It looks like you're using Internet Explorer 11 or older. This website works best with modern browsers such as the latest versions of Chrome, Firefox, Safari, and Edge. If you continue with this browser, you may see unexpected results.
ONESearch
The ENTIRE collection of resources provided by the BBC Library can be searched on ONE single, powerful search platform, which retrieves print books, eBooks, database articles and websites. Click HERE for assistance.
Databases
Britannica Online

A great general encyclopedia, especially for Middle School, this is the largest, most authoritative encyclopedia in the world. Beside topical articles, it includes maps, photos, illustrations, videos, multimedia clips, and yearbooks from 1993 onward.

Gale World History in Context

Combining outstanding primary and secondary historical sources with great multimedia, World History In Context reaches back nearly 5,000 years to chronicle the rise and fall of cultures and societies across all continents and eras. Rare primary sources combine with reliable references to put content into context for every learner.

History Reference Center

Features full text for more than 1,620 reference books, encyclopedias and non-fiction books from leading history publishers.
Atomic Bomb: Hiroshima and Nagasaki
Hiroshima

EBOOK which describes how the Japanese city of Hiroshima became the target of the world's first nuclear attack, explaining the development of the atomic bomb, the nuclear arms race that followed, and the city's legacy as a peace memorial.

Hiroshima: The world's bomb

EBOOK which shows the bomb dropped by a US pilot that hot August morning in 1945 was in many ways the world's offspring, in both a technological and a moral sense. And it was the world that would have to face its consequences, strategically, diplomatically, and culturally, in the years ahead.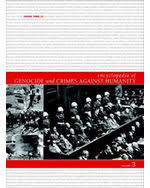 Hiroshima

Article from ebook "Encyclopedia of Genocide and Crimes Against Humanity", by Dinah L. Shelton, ed. Detroit, MI: Macmillan Reference USA, 2005. Scanned under licence.
Primary Sources
Trove Newspapers

Trove provides access to primary source materials from Australian newspapers – mostly 1803 to 1954, and the full text of the Australian Women's Weekly from 1933 to 1982.

Australian Screen

Australian Screen provides access to a number of primary source clips from film and television. See below examples of the Pacific War news items.
National Archives of Australia
Specify World War II and click on 'Browse' to access a range of primary sources including:
Cablegram from Curtin to Churchill about the defence of Singapore – 17 January 1942
Churchill on the return of Australian troops to defend Australia – 27 January 1942
Some Possible Key Questions
Why were Australians afraid of invasion by Japan, and were these fears justified?
What made the Japanese military so fearsome during the Pacific War?
What role did Brisbane play in the Pacific War?
Was 'island-hopping' the right strategy to fight the Japanese?
How effective was the military leadership of Macarthur?
How effective was the military leadership of Nimitz?
Compare the way Japanese POWs in Australia and Australian POWs in Asia were treated.
How important was Emperor Hirohito's role in the Pacific War?
Why is Yamamoto a revered Japanese military leader?
What were Kamikaze attacks, and how effective were they as a military tactic?
How effective was John Curtin's leadership of Australia during the war?
How effective were the policies which the Curtin government implemented after 1942?
What were Australian-American relationships like during the war?
Why was conscription a divisive issue in Australia during the Pacific War?
What impact did the war have on the role of Australian women?
What does 'turning the tide' in the Pacific War refer to, and how was it achieved?
What was the Manhattan Project, and how effective was it?
Was the dropping of the atomic bombs on Hiroshima and Nagasaki justified?