Skip to Main Content
It looks like you're using Internet Explorer 11 or older. This website works best with modern browsers such as the latest versions of Chrome, Firefox, Safari, and Edge. If you continue with this browser, you may see unexpected results.
Adolescents and Sleep
What is a Claim?
According to the QCAA Syllabus glossary, a claim is an assertion made without any accompanying evidence to support it.
Developing a Research Question from a Claim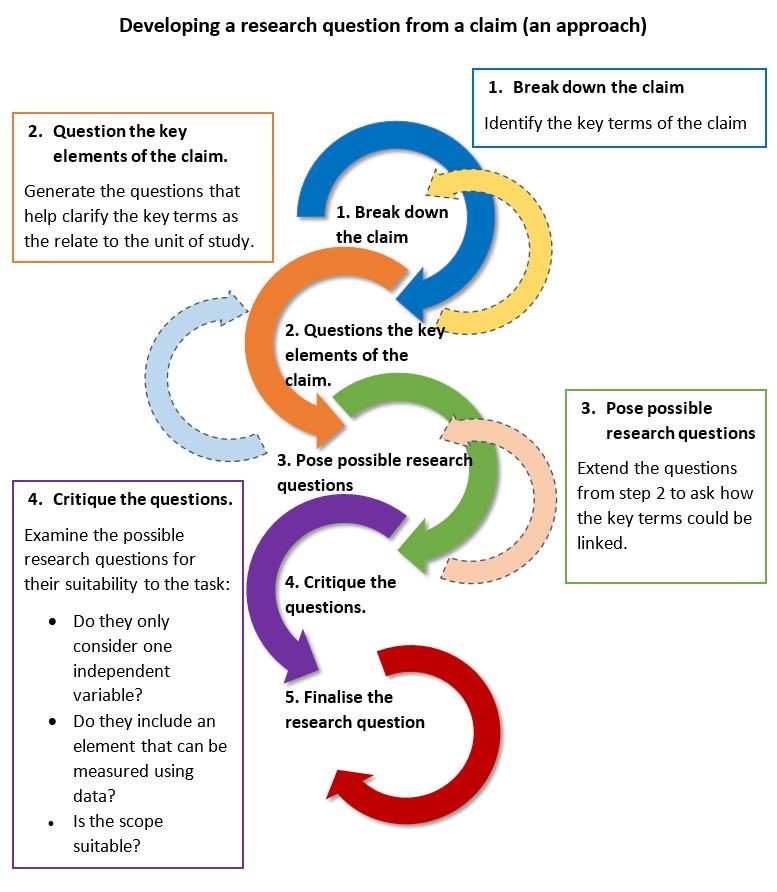 Useful Websites
Note: Some possible research topics might include:
Impact of screen time
Impact on studies and academic achievement
Impact on risk-taking and impulse control
Impact on depression
How much sleep to teenagers really need?
Later start times for teens improves grades, moods and safety
Sleep is one thing missing in busy teenage lives
There's a strong link between anxiety and depression, and sleep problems, and it goes both ways
Regular bed times as important for kids as getting enough sleep
Many teens sleep with their phones, survey finds - just like their parents
Neuroscientists identify a surprising low-tech fix to the problem of sleep-deprived teens
News flash: Teens need adequate sleep!
Our brains benefit from sleep. Here's why, and how parents can help teens get plenty of it
Poor grades, miserable teen? The start of the school day could be to blame
Psypost: Adolescents and Sleep (several articles)
Screens and sleep. The new normal: Parents, teens, screens, and sleep in the United States
Adolescent Sleep and Cellular Phone Use - Recent Trends and Implications for Research
Sleep in adolescents: The perfect storm
Sleep variability in adolescence is associated with altered brain development
Synchronizing education to adolescent biology: 'let teens sleep, start school later'
Why children who sleep more get better grades
The Complex Role of Sleep in Adolescent Depression
Sleep and teenagers: 12-18 years
Science News for Students
For teens, a good mood depends on good sleep
Later school starts linked to better teen grades
Sleep Health Foundation (Australia)
Quick facts and FAQ about sleep for high school students
UNICEF: Office of Research-Innocenti
The Adolescent Brain a multimedia resource collection
QCAA Sample Research Question Developed From a Claim
Scroll down to p 4: An example of how a Research Question can be developed from a Claim
Useful Psychology Websites
Articles and Reports
Sleep and cognitive development

From Johns Hopkins Bloomberg School of Public Health: Teen brains need more Zzzzzzzs

Sleep and young people Having enough quality sleep
is vital to your emotional and
physical wellbeing. We sleep so
we can be active, focused and feel
good during the day.
Not being able to get to sleep can
be really distressing. If you haven't
been able to rest properly, your
body and mind can start doing
strange things. Poor sleep can
be a vicious cycle – not enough
sleep may cause the brain to
become more active and an overstimulated brain is less able to fall
asleep.

Teenagers and sleep Summary: Sleep research suggests that a teenager needs between eight and 10 hours of sleep every night. Most teenagers only get about 6.5-7.5 hours sleep per night. Teen's body clocks naturally shift to make them feel tired later in the evening, but early school starts do not enable them to sleep in the mornings. Chronic sleep deprivation can have dramatic effects on a teenager's life, including affecting their mental wellbeing and reducing their academic performance at school. Smart phones and other devices used around bed time reduce sleep time. Avoiding stimulants such as coffee, tea, soft drinks and energy drinks in the evening can help to promote better sleep.

Accessed from Better Health Channel website.

Gale Encyclopedia of Children's Health: Sleep Scroll down the article to the section on adolescents at school and university.

From ebook: The Gale Encyclopedia of Children's Health: Infancy through Adolescence (Vol. 4. 3rd ed.) Publisher: Gale Cengage.

A free ebook used with gratitude from Gale ebook publishers during the school closure period, 2020.

Teenage Sleep

Chapter 1: All About Sleep
Chapter 2: Problems of Teen Sleep and Sleep Disorder
Chapter 3: Trouble Getting to Sleep or Staying Asleep

Discusses behaviours that can happen during sleep, like sleep walking, feelings of restless legs, being paralysed, midnight binge eating, the meaning of dreams and many other things are all covered.

From: Teenage sleep: Understanding and helping the sleep of 12 - 20 year olds. By Bruck, Dorothy (2006). Wellness Promotion Unit, Victoria University, Melbourne, Australia.
Commercial eBooks
Sleep Disorders in Adolescents

NOTE: Use your student number to login.

Presents a comprehensive review of common sleep problems in adolescents in a concise, easy-to-read format. Each chapter thoroughly addresses a unique sleep disorder in teenagers through illustrative cases, reviews of relevant literature, and pearls of wisdom for both the practicing sleep specialist and other practitioners involved in the care of adolescents.

Sleep Problems in Children and Adolescents

NOTE: Use your student number to login.

Sleep problems in children and adolescents are very common and often the cause of concern and distress for both the child and the family. They can affect behaviour, learning and sometimes physical health. There are many possible causes for sleep problems, some psychological, others physical.

Sleep and Sleep Disorders in Adolescents

NOTE: Use your student number to login.

Examines the complex spectrum of normal sleep and sleep disorders in adolescents.
QUT C.R.A.A.P. Test for Evaluating Websites
Check the quality of your websites using these criteria (adapted from QUT Library):
Currency: Timeliness of the information
When was the information published, posted or last updated?

Is the information current for your topic and field of study? How recent does it have to be? Can older sources work just as well?
R
elevance:
Importance of the information for your needs
Is the information appropriate for a senior secondary course?

Is this an adequately in-depth examination or a quick summary of the topic?

Who's the intended audience? Is it the general public, a student, a researcher or industry?

Is the level of information too basic or too advanced for your needs?
Authority: Source of the information
Is the author/authoring body (individual person, or institution, or organisation) established and reputable?

Are their qualifications, credentials, expertise, experience, educational background and previous work (if any) relevant and do they add credibility to the source?

Has the piece been published by a well-known and respected publisher or organisation?

Do references to other sources support the writing ie is a Reference List provided?
Accuracy: Reliability and correctness of the information
Where does the information come from, and is it supported by evidence?

Does it have a Reference List or Bibliography so you can easily find and verify the sources used?

Are there any spelling, grammar, or other typographical errors?
Purpose: Reason the information exists
What is the purpose of the information? Why was it written?

Does the point of view appear objective, unbiased and impartial?

Is the viewpoint of the author's affiliation/ sponsors reflected in the message or content?

Does the author acknowledge alternative versions of the issues or facts?
ONESearch
The ENTIRE collection of resources provided by the BBC Library can now be searched on ONE single, powerful search platform, which retrieves print books, eBooks, database articles and websites. Click HERE for assistance.
Useful Academic Websites - Excellent!
This link is to an entire journal called 'Nature and Science of Sleep'
An excellent free source to use, a little easier than PubMed.
Articles about sleep from School TV
Advanced Web Searching Tips
1. Use

(Control + Find) to search for particular terms easily in a long document, whether from a website or a database article.
2. Use a Boolean command - put to limit and improve your results eg "energy drinks cardiovascular problems children".
3. Use a Google command eg OR eg biodiesel site:edu
4. Use a Google command
After you get your results, choose the Google Menu Bar, and choose 'Tools'. Then on the far left, at the drop-down menu next to 'Any Time', you can choose 'Within the last year' (or less, if you prefer), but generally, you can choose 'Custom Range' at the bottom, as often the last 3-4 years would be sufficient for a recent search.
MyBib Referencing Generator - APA 7
MyBib is an online referencing generator to help you with in text references and your List of References.
NOTE:
Sign up for an account so that it will store the references for your assignment. Add it to your bookmark bar to find it quickly.

Install the Chrome extension to make your referencing even faster.

Make sure in your Reference List has a corresponding In-Text citation in the body of your essay.