Skip to main content
It looks like you're using Internet Explorer 11 or older. This website works best with modern browsers such as the latest versions of Chrome, Firefox, Safari, and Edge. If you continue with this browser, you may see unexpected results.
Changing Earth
Tectonic activity - useful information
Climate change and its impacts - useful information
Useful books
Climate change: the facts 2017

by

Call Number: 363.738 CLI

ISBN: 9780909536039

Publication Date: 2017

Climate Change: The Facts 2017 contains 22 essays by internationally-renowned experts and commentators, including Dr Bjorn Lomborg, Dr Matt Ridley, Professor Peter Ridd, Dr Willie Soon, Dr Ian Plimer, Dr Roy Spencer, and literary giant Clive James. The volume is edited by Dr Jennifer Marohasy, Senior Fellow at the Institute of Public Affairs. Fourteen of the contributors currently hold or have held positions at a university or a scientific research organisation.

The Impact of Climate Change

by

Call Number: 363.738 FRY

ISBN: 9781847731166

Publication Date: 2009-04-07

World leaders, environmentalists and the international science community agree that climate change is one of the largest and most intractable problems now confronting us all. Despite this, it still remains a bewildering subject.

Fossil fuels

by

Call Number: 333.79 FOS

ISBN: 9781922084156

Publication Date: 2013

As a major producer of coal, oil and gas, Australia is heavily reliant on fossil fuels, which have underpinned Australia's energy and industrial sectors for the past century. Growing household energy consumption is an important contributor to greenhouse gas emissions, particularly because of Australia's reliance on coal for electricity generation. While coal and gas are the lowest cost fuel sources for electricity in Australia, they have much higher greenhouse gas emissions than renewable energy sources. What steps is Australia taking to reduce its reliance on fossil fuels and increase energy efficiency and sustainability?
OneSearch Database Explorer
The ENTIRE collection of resources provided by the BBC Library can be searched on ONE single, powerful search platform, which retrieves print books, eBooks, database articles and websites. Click HERE for assistance.
What is a Claim?
According to the QCAA Syllabus glossary, a claim is an assertion made without any accompanying evidence to support it,
QCAA Sample Research Question Developed From a Claim
Scroll down to p 4.
How to Develop a Research Question from a Claim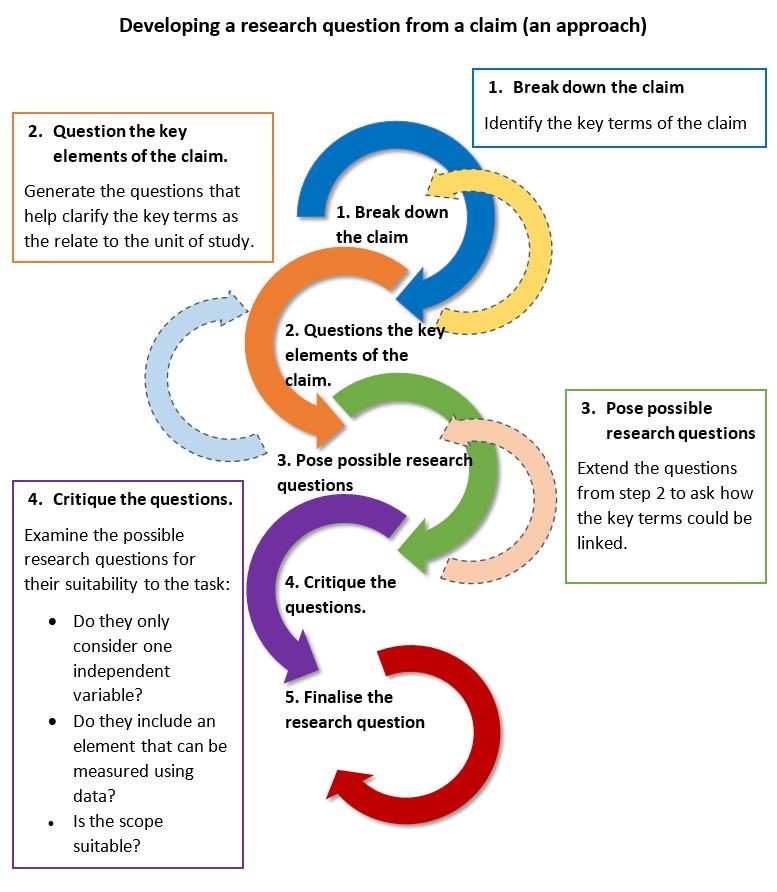 QUT C.R.A.A.P. Test for Evaluating Websites
Check the quality of your websites using these criteria (adapted from QUT Library):
Currency: Timeliness of the information
When was the information published, posted or last updated?
Is the information current for your topic and field of study? How recent does it have to be? Can older sources work just as well?
R
elevance:
Importance of the information for your needs
Is the information appropriate for a senior secondary course?
Is this an adequately in-depth examination or a quick summary of the topic?
Who's the intended audience? Is it the general public, a student, a researcher or industry?
Is the level of information too basic or too advanced for your needs?
Authority: Source of the information
Is the author/authoring body (individual person, or institution, or organisation) established and reputable?
Are their qualifications, credentials, expertise, experience, educational background and previous work (if any) relevant and do they add credibility to the source?
Has the piece been published by a well-known and respected publisher or organisation?
Do references to other sources support the writing ie is a Bibliography or Reference List provided?
Accuracy: Reliability and correctness of the information
Where does the information come from, and is it supported by evidence?
Does it have a Reference List or Bibliography so you can easily find and verify the sources used?
Are there any spelling, grammar, or other typographical errors?
Purpose: Reason the information exists
What is the purpose of the information? Why was it written?
Does the point of view appear objective, unbiased and impartial?
Is the viewpoint of the author's affiliation/ sponsors reflected in the message or content?
Does the author acknowledge alternative versions of the issues or facts?